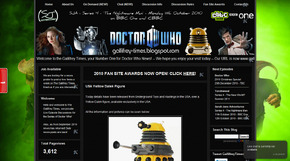 The Gallifrey Times is a Doctor Who Blog Fansite founded in 2007, as Doctor Who Online, but in January 2009, the site's name changed to The Gallifrey Times.
The Gallifrey Times started on Piczo, but since has moved to the more professional 'Blogger'. The site is well known for it's daily updated news and articles.
The Beginning
Edit
The Gallifrey Times started in 2007 as Doctor Who Online on Piczo. But then a separate News page was started on Blogger in 2008, until on January 1st 2009, everything was moved to blogger under the name of 'The Gallifrey Times'.
Closure In 2010
Edit
In 2010, The Gallifrey Times closed for a few months, but in August 2010, the site was a discussion site for Doctor Who Episodes and Special Events, but in September 2010 news did make it's return, and news is the main aim of the site.
Ownership
Edit
Since the site opening back in 2007, Tom has always been the owner of The Gallifrey Times, but a news poster is currently required on the site.
External Links
Edit