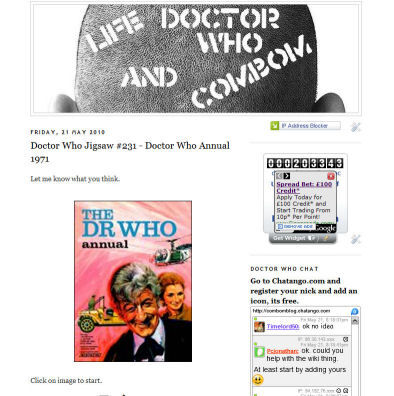 Life Doctor Who And Combom covers all aspects of the TV Whoniverse, it is very fast for news, and has theories about what's happening in the show, plus Jigsaws, facts, videos, and much more. It proudly declares its devotion to all the latest news, views, and videos concerning Doctor Who.
It has an average of seven posts per day, though it often gets up to 20 posts on a busy day. It recently celebrated its 4 Millionth Hit. It is an incredibly popular site and is often peoples first port-of-call for news!
It is run by Combom, a Doctor Who fan for more years than he cares to talk about, PCJonathan, who looks after the Media posts, and 10thPlanet, who picks up on unusual stories and merchandise. It is linked through Facebook and Twitter.